Description
Product Details
Reviews
Description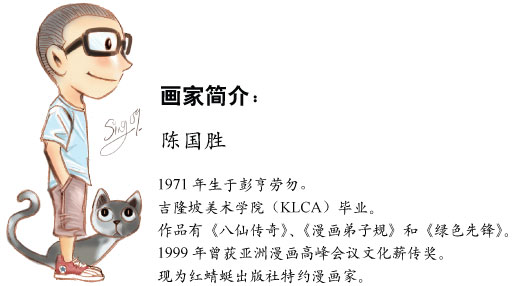 故事简介:
王湘湘和周诺言是太阳城恒星中学的学生。
两年前,湘湘的爷爷王亭在月亮城进行脑部手术。要是手术成功了,他就可以永远保留记忆;要是手术失败了,他就会失去所有的记忆。可惜手术之后,王亭就音讯全无,湘湘非常想念他。
有一天,湘湘竟然在太阳城的拼图店里见到爷爷的照片。追查之下,她发现照片里的人叫做王心,是拼图店店主王俊一的爷爷。王心不只跟爷爷长得一模一样,就连他的习惯和喜好,也跟爷爷很相似。然而,王心见到湘湘却像见到陌生人一般,对湘湘一点儿印象也没有。另一方面,湘湘更收到了匿名人的警告字条,要她停止追查下去,否则后果将不堪设想……
到底这个长得跟爷爷极像的王心是谁?他会不会就是失去了记忆的爷爷?王俊一又是什么来历?而阻止她追查爷爷的下落的人又是谁呢?
Wang Shiang Shiang and Chow Nuo Yan were students of Heng Shing Secondary School in Sun City.
Two years ago, Shiang Shiang's grandfather, Wang Ting, had a brain surgery done at Moon City. If the operation was successful, he would be able to keep his memories; but if the operation failed, he would lose them all. However, Wang Ting lost all contact with his family after the operation. Shiang Shiang missed him very much.
One day, Shiang Shiang saw her grandfather's photo in a shop selling puzzles at Sun City. After some investigations, she found out that the person in the photo was called Wang Shin, who was the grandfather of the owner of the shop, Jyun Yi. Wang Shin was not only identical in appearance to Shiang Shiang's grandfather, his personal habits and likings were also similar! However, Wang Shin treated Shiang Shiang like a total stranger; he had no impression of Shiang Shiang at all. Meanwhile, Shiang Shiang received an anonymous note, warning her not to investigate further, or she could face terrible consequences…  
Who was that Wang Shin that was a splitting image of her grandfather? Was he her grandfather who had lost his memories? Who was Jyun Yi? Who warned Shiang Shiang against looking further for her grandfather?
Product Details
Identifier
ISBN

978-967-5439-34-6
Please select a product option.